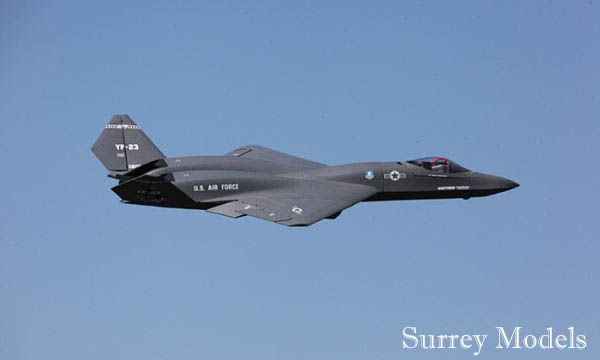 Features:

Large High Scale RC Model
Radio Controlled 2.4GHz 6 Channel Twin EDF Jet (Aileron, Elevator, Rudder, Throttle, Retracts, Electric Brake Function)
Authentic aluminium alloy screw retracts
Electric brake function
Unique design
EPO foam material. High simulation, copy the coolest plane in the world if you know it.
Primarily fixed by screw, little by glue.
Twin 70mm EDF units. (Electric Ducted Fans) and Brushless Motors, double power and extremely fast speed; High speed (up to 110km/h) depends on the accessories.
2.4GHz spectrum remote transceiver available, with the functions of automatic identification and precise code pairing, strong anti-jamming, and allow more than 20 aircrafts to fly at the same field at same time
Excellent stability of nosing up and down
Excellent hedgehopping performance
Stable invert flight
Electronically retractable landing gear

More Images:

Specification:

| | |
| --- | --- |
| Product Name: | YF23 Grey Ghost |
| Length: | 1305mm |
| Wingspan: | 810mm |
| EDF Diameter: | 70mm |
| Material: | EPO Foam |
| Flying Weight: | 2450g |
| Thrust: | More than 2500g |
| Radio: | 6 Channel |
| Retracts: | Aluminium Alloy  |
| Servo: | 7x 17g Digital Metal Servos  |
| Speed Controller: | 2x 50A Brushless ESCs |
| Control System: | 2.4GHz Multifunctional Transmitter and Receiver |
| Drive System: | 2x 2100KV Brushless Outrunner Motors |
| Aircraft Battery: | Li-Po 22.2v/4000mAh (25C) |

No current video at this time

Product Info:

This Aircraft is NOT A TOY. It is not suitable for children under 14 years of age. Children under the age of 14 must not operate this product alone.  They must be accompanied by an experience adult at all times.

Flying Skill Level:

Advanced and experienced pilots recommended.

Build Level:

Moderate airplane assembly required. Internal wiring and electronics configuration is required. Please dry fit and test all electronics before gluing and securing any components.

Maintenance Level:

After every 5 flights and before and after storing airplane, please check all control surface horns and tighten the screws on surface horns if needed. Check the control pushrod clevis to insure no cracks are visible and no clevis has come loose. Check all control surfaces for solid contact between control surfaces, main wings and tail sections. Check for any loose screws anywhere screws are located. Check all wires connecting to the receiver for solid connection.

Please Note: If you have very little knowledge of Model Plane Assemble or have no Radio Control Flying experience, we would NOT recommend you to purchase this product to learn on.

Package Includes:

There is no clear industry standard definition for RTF, ARF, RXR, KIT, etc. Every manufacturer makes up their own definitions.

The generally accepted definitions are:

KIT means that you get all of the components of the plane, i.e.: fuselage, wings, tail, landing gear, even ducted fan, etc., pre-built but not pre-assembled; No electronic parts are included.

RTF (Ready To Fly) means that you get the complete model, which includes all electronic parts—equipped model itself and RC Transmitter, Receiver, Flight Battery and 90 – 98% assembled. All "RTF" versions will have slight final assembly and setting up to do before flying.
Required items: RC transmitter AA batteries and Li-po flight battery charger depending on the model aircraft purchased.

RXR means that you get the RTF but no RC transmitter/Receiver.

ARF means that you get the RTF but no RC transmitter/Receiver and no aircraft Battery.